Payment & Security
Your payment information is processed securely. We do not store credit card details nor have access to your credit card information.
Description
OER 10" Chrome Backed Day/Night Rear View Mirror 
Pontiac Firebird Chevrolet Camaro Caprice Corvette Impala Nova Truck
OER® reproduction of the original 10" replacement button style mount chrome backed day/night inner rear view mirror. Features chrome housing, grey rubber cushion edge and satin silver arm support. Includes correct "Guide" markings as original.
Mounting button and adhesive not included
Officially Licensed GM Restoration Part®
Buick Applications: 
1973-1975 Buick Apollo 
1978-1981 Buick Century 
1978-1982 Buick Regal 
1979-1982 Buick Riviera 
1976-1982 Buick Skylark 
Cadillac Applications: 
1979-81 Cadillac Eldorado 
1980-81 Cadillac Seville 
Chevrolet Applications: 
1970-1981 Chevrolet Camaro 
1980-1981 Chevrolet Citation 
1976-1976 Chevrolet Corvette (2nd Design) 
1977-1982 Chevrolet Corvette 
1978-1981 Chevrolet El Camino 
1978-1981 Chevrolet Malibu 
1978-1981 Chevrolet Monte Carlo 
1973-1979 Chevrolet Nova 
Chevrolet/GMC Truck Applications: 
1972-1973 Chevrolet Pickup Truck (C/K 1/2, 3/4 ton) 
1974-1980 Chevrolet Pickup Truck (C/K) 
1972-1980 Chevrolet Blazer 
1973-1980 Chevrolet Suburban 
1974-1982 Chevrolet Van 
1973-1973 GMC Pickup Truck (C/K 1/2, 3/4 ton) 
1974-1980 GMC Pickup Truck (C/K) 
1974-1980 GMC Suburban 
1973-1980 GMC Jimmy 
Oldsmobile Applications: 
1978-1981 Oldsmobile Cutlass 
1973-1981 Oldsmobile Omega 
1979-1981 Oldsmobile Toronado 
Pontiac Applications: 
1970-1981 Pontiac Firebird 
1978-1980 Pontiac Grand Am 
1978-1981 Pontiac Grand Prix 
1978-1981 Pontiac Lemans 
1977-1981 Pontiac Phoenix 
1973-1977 Pontiac Ventura
 Mounting Button and Adhesive Available separately.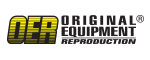 You are assured that every OER® part offered is manufactured to exact specifications and will fit and function just like the original part. What's more, most OER® products are officially licensed and carry a full 1 year warranty against defects and workmanship. Far above most other manufacturers of restoration products, the OER® symbol denotes the finest restoration products on the market. Look for the OER® symbol before buying your restoration parts.
Item will need to be shipped directly from the manufacturer, so please allow an extra 2 to 3 days
handling. If there are any availability issues, you will be notified immediately.