Payment & Security
Your payment information is processed securely. We do not store credit card details nor have access to your credit card information.
Description
OER® reproduction hood to fender stoppers designed for 1967-72 models. These uniquely designed
 bumpers will replace the originals exactly offering years of service after installed.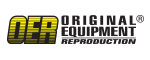 You are assured that every OER® part offered is manufactured to exact specifications and
 will fit and function just like the original part. What's more, most OER® products are officially licensed
 and carry a full 1 year warranty against defects and workmanship. Far above most other manufacturers 
of restoration products, the OER® symbol denotes the finest restoration products on the market. Look for
the OER® symbol before buying your restoration parts.